Located at an altitude of 1,938mts above sea level, Nainital derives its name from Naini Lake, a prominent tourist spot of Nainital. Nainital is located in the Kumaon region and is popularly known as the Lake District of India.Nainital is famous for the Naini Lake where it is believed that Lord Shiva performed his tandava. The Naini peak or the China peak is the highest in Nainital with a height of 2611mts. Some of the other places of tourist interest are the Mall, now known as the Govind Ballabh Pant Marg.
There are two parts in Nainital – Tallital & Mallital
About Naini Lake= Nainital Lake, famously known as Naini Lake is the major attraction of Nainital town as well of Uttarakhand. Surrounded by panoramic seven hills, Nainital lake is a favourite spot among romantic travellers around the world. It is one of the most visited lakes in India.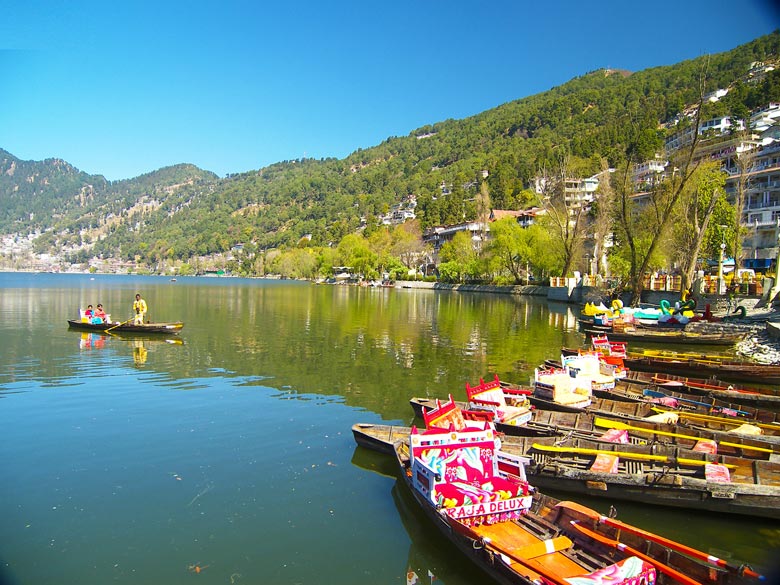 Nainital Zoo– Nainital Zoo, also known as Pt. G. B. Pant High Altitude Zoo, is located in Nainital. Many endangered species of Himalayas are carefully protected in the Nainital Zoo. Among the many species of animals include Snow Leopard, Tibetan wolf, Sambar, Leopard Cat and Himalayan Bear.Besides, the zoo is birdwatcher's paradise as well as many different species of high altitude birds can also be spotted here. Perched on an altitude of 2100 meters and over 4.6 acres of serene forest, the zoo is preserved by SherkaDanda hill. It was built in 1984 and opened to the public in 1995. At just 2 KM away from Tallital Bus Station in Nainital, the zoo is easily accessible. Its location between Shivalik and middle Himalayan Ranges makes it a beautiful place to relax and explore wildlife.
Address : Nainital zoo,Tallital,Nainital,Uttarakhand 263002
How To Reach: By Train: 36 KM away from Kathgodam Railway Station
By Air: 45.7 KM away from Pantnagar Airport
Entry/Camera Fee – The Zoo earns mainly on account of camera and entry fee paid by the general public.
Fee for Entry
Adult: Rupees Fifty only (Rs.50/-)
Child: Rupees Twenty only (Rs.20/-)
The Aerial Ropeway in Nainital is one of the biggest tourist attractions. With hundreds of visitors flying in each day, aerial ropeway carries people from Mallital to the Snow View Point, one of the popular places to visit in Nainital. This three-minute ride is no less than a dream as it offers you the best bird-eye view of the Nainital City and Naini Lake.
Start Point – Mallital
Mallital is the upper end of the Naini Lake and the Mall road where you can find great shopping places. A variety of multi-cuisine restaurants and eateries are present in this area offering some finger-licking good food. Once in Mallital, you can go Candle shopping and pinewood crafts by the local artisans.
End Point – Snow View Point
Snow View Point is one of the most beautiful spots in the Nainital as it offers a magnificent view of the snow-covered mountain peaks of the Great Himalayas. The Snow View Point is 2270 m above the sea level. A large pair of binoculars is installed at the Snow View Point for the visitors to have a close look at the snow-covered peaks.
Aerial Ropeway Nainital Entry Fee
300 per person for Adults both way
200 per person for Children (between 3 Yrs – 12 Yrs) both way
Time of stay at Snow View Point: 1 Hour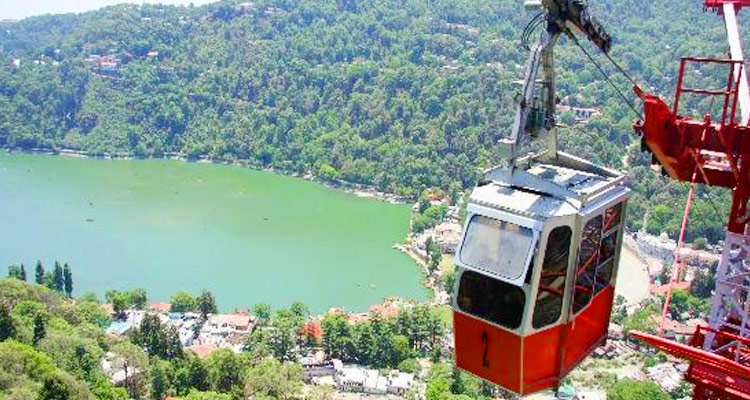 Tiffin Top (Dorothy's Seat)–
One of the popular picnic spots in Nainital, the Tiffin Top is a place where you can get enjoy the spectacular scenery of Nainital from its highest point. Also called the Dorothy's Seat, it is located on the Ayarpatta Hills, offering a gorgeous 360 degree view of the Lake District. It was named Dorothy's Seat by a British Army Officer in the memory of her wife Dorothy Kellet who died from septicemia.
The Kumaun Hills which surround this location give the place calm and serene scenery making it a delight for all visitors. If you love hiking, the Tiffin Top makes for an exemplary 4 km ride from the main city where you can go by foot or hire a pony that are easily available from the Mall Road.
Price:
-Free Entry.
-Round Trip Pony (Horse Riding) will cost between INR 500 to INR 700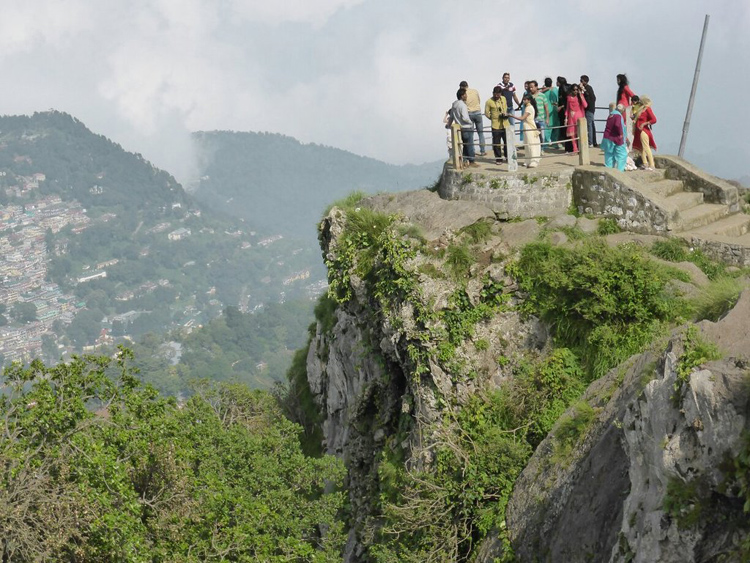 Snow View Point–
The point is around 3 Km from the town of Nainital and you can travel there through either cable rope or your car. If you are comfortable, you can also visit Snow view point by walking there or book a taxi if you prefer it.
Highlights: From the top of the mountain, you can have a full view of the city which looks just marvelous. If you notice, there will be a place which says The highest mountain in the British empire. Before Sikkim became a part of India, Naina Devi was India's highest peak.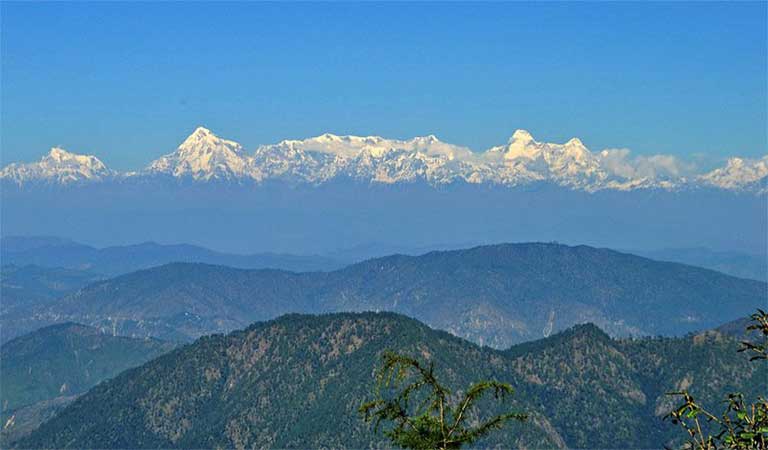 The Mall Road–
Mall Road is the primary road which goes through the core of the Nainital town parallel to the lake, interfacing the two closures of the town. It is now named as the Govind Ballabh Pant Marg. The road is one of the most vibrant places to visit in Nainital.
Mall Road has a number of hotels, travel agencies, banks, showrooms, department stores, shops, restaurants and cafes. You will find some of the best hotels and restaurants of Nainital located on the Mall Road.It is one of the busiest and crowded during the day time. Parking is prohibited and the road is closed for vehicles during the peak seasons so that the tourists can easily walk besides the lake on this famous road in Nainital.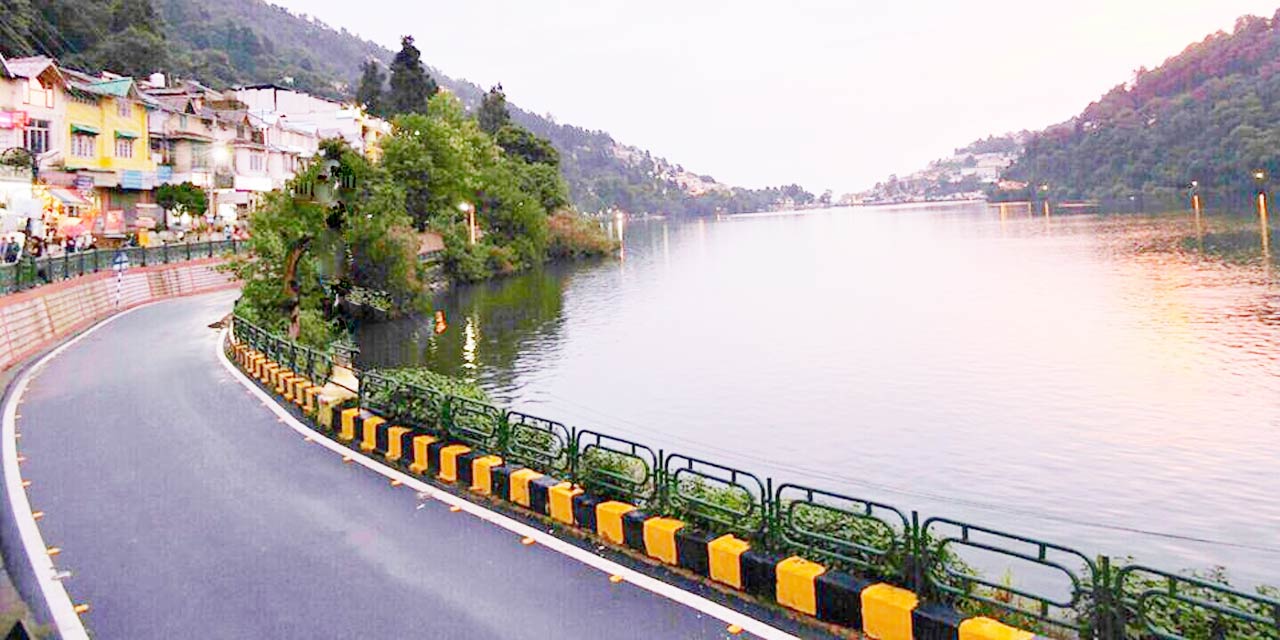 Eco Cave Gardens–
Eco Cave Garden is one of those tourist places in Nainital which have gained importance in the recent past. A cluster of natural caves transformed into a cave garden, Eco Cave Gardens is home to 6 intriguing animal-shaped caves that offers children as well as adults an opportunity to experience several animals in an almost-natural habitat.
Adorned with a musical fountain with audio-visual effects, the caves also have a series of exquisite hanging gardens along the caved pathways. Dedicated to the wildlife species of the Kumaon region, the Eco Cave Gardens is of high importance to Nainital tourism.
Location: Sukhatal, Mallital, Nainital, Uttarakhand 263001, India
Highlight: Cave Gardens and children entertainment
Price: INR 60 for adults, INR 25 for children, INR 25 for camera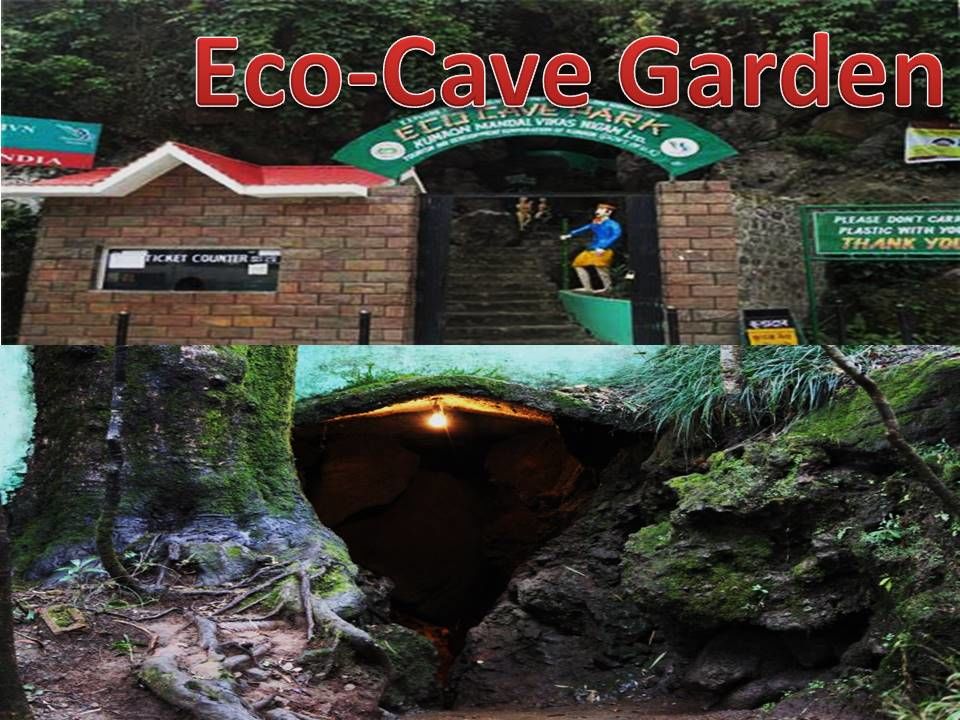 Kilbury Bird Sanctuary–
Kilbury bird sanctuary is the ultimate destination for anyone who loves watching birds. Due to this reason, it is also called as the bird watcher's paradise.
Most of the people who visit the place are frequent visitors who take time out of their lives to watch birds and fulfil their desires. This sanctuary is placed in midst of the reserved forest of Nainital.The bird sanctuary has more than 580 different species of birds which is a delight for all the bird lovers. Some of the most famous birds which are a part of this sanctuary include Brown wood owls, white throated laughing thrushes, forktails and many other birds.
St John's Church– One of the most visited tourist places in Nainital, St John Church, also known as St John's the Wilderness, is a breathtaking church constructed in the 1800s. Named by a bishop from Kolkata, the church takes you back to a historical era while giving you all the time to compose yourself and reflect within.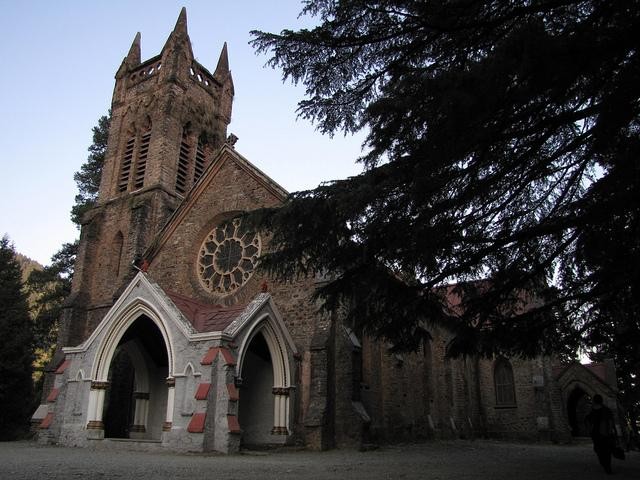 Raj Bhawan- Governor's House– Raj Bhawan, also called as Governor House is a British era building, now serves as the residence of Governor of Uttarakhand. Known for its magnificent looks and old age charming architecture, Raj Bhawan in Nainital previously served as summer residence of British Governors. Governor House or Raj Bhawan is located in splendid landscape and spreads across vast area.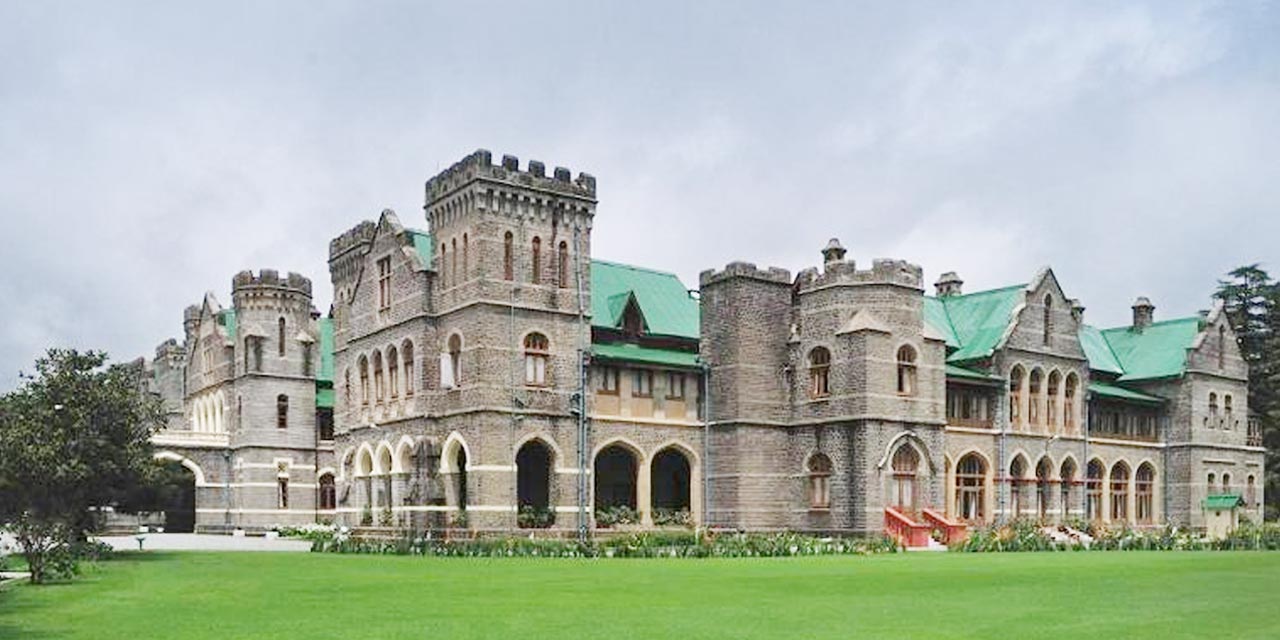 Naina Devi Temple-A well known Shakti Peeths of Hindu religion, Naini Devi Temple is sacred place of great devotion in Nainital. Goddess Naini Devi is the diety of Naini Devi Temple and located at northern end of famous Nainital Lake. Goddess in this holy temple is represented by her two eyes. Devotees from far away place comes here to take blessing of Maa Naina Devi.
Bhotia Market (Tibet Market) – Located near the Naina Devi Temple, Bhotia Market is one of the most famous shopping destinations. This place is every shopaholic's delight as you can buy a lot of amazing clothing at good bargained prices. If you are looking for beautiful scarves, fashionable bags, winter clothes like shawls or mufflers or ethnic items, this is the place where you should pay a visit while in Nainital on a holiday.