Almora, a picturesque district in the Kumaun region, East of Uttarakhand in India, with a breathtaking panoramic view of Himalayas, summons tourists worldwide to its alluring grandeur of natural beauty. and it's famous for its alluring beauty, panoramic view of the Himalayas, rich cultural heritage, Unique handicrafts and delicious cuisines. Other important temples of Almora are Katarmal ( an 800 years old Sun Temple ), Jageshwar and Kasar Devi Temple built on mountain peak near Kalimuth .
Here are some famous places which make this place more beautiful and devotional.
Nanda devi Mandir –
This temple is about 1000 years old. Most important attraction in Almora.
The temple is dedicated to Goddess Nanda Devi. She is believed to be the destroyer of evil. Local people told that there are many temples of Nanda Devi in Kumaon hills and even in Nepal dedicated to goddess Parvati as she is daughter of Himalayas.
Must visit is Nanda Devi Fair that is hosted every year in the month of September, a 5 day festival, celebrated with high volume drum beats and dances.
The nearest railway station is at Kathgodam situated around 90 KMs away.
The temple is near the wholesale market and one has to park vehicle and walk the narrow path about 250-300 meters. The lanes are narrow and parking space is limited.
Few small shops nearby for prasad and puja.
Best – No monkeys here.
A very beautiful and wonderful place . That give us peace and happiness both . Every year nanda devi festival is celebrated here on the month of september
Chitai Golu Devta Temple– The famous Temple of Chitai, Almora is actually known as Golu Devta Chitai temple, dedicated to Golu Devta or Goljyu Devta an Avtar (incarnation) of Lord Shiva in the form of Gaur Bhairav. It's a beautiful temple near Almora, much revered by the people here. Golu Devta is the god of justice. Chitai temple is dedicated to him only. People from all over the country visit this temple,The legend goes that you write a letter to the Lord, expressing your desires, and tie it here with red thread.
It is reputed to make every wish come true, provided the worshipper ask for it with a clear conscience. The temple is situated at 9kms from Almora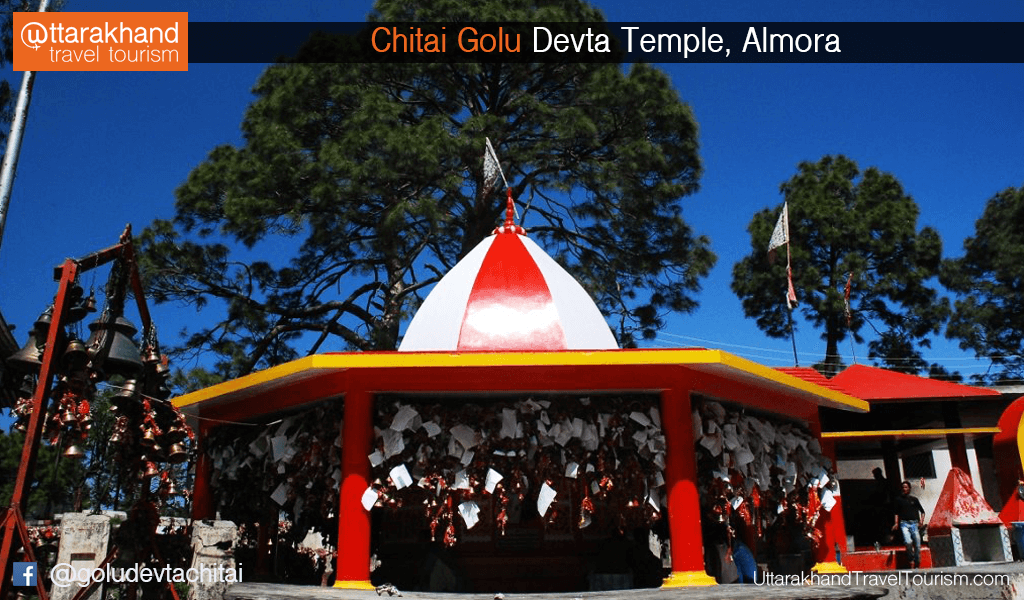 Kasar Devi Temple Almora– Kasar Devi Temple is located in the Kasar Devi village, which is about 10 km from Almora. The place derives its name from Kasar Devi, who is the main deity of the temple. Originally a cave temple, there is a rock inscription in the temple which dates back to 2nd century BC. It is the only cave temple in the district.A long flight of stairs, which begins from the road itself, will take you to the temple which is placed at the top of a hill. There are trees of deodar and pine in and around the place and one can have a pleasing panoramic view of Almora town, Hawabagh Valley and mighty peaks of Himalayas from here. The temple premises provide a fabulous view of the setting sun.
In the month of November or December, on the occasion of Karthik Poornima, the village holds the Kasar Devi Fair at the temple.
Budden Memorial methodist Church– The century old Budden Memorial Methodist Church in Almora didn't hold any midnight mass this year quoting discomfort faced by the senior citizens due to extreme cold as the reason. The midnight mass was held instead on Thursday evening.
The church was built in 1897 in the memory of Reverend John Henry Budden associated with London Missionary Society, who was later offered a missionary position in Kumaon by Captain Henry Ramsay.
Katarmal Surya Temple Adheli Sunar– Katharmal is known for a rare Surya temple constructed by the Katyuri Kings in the 9th century CE. It has 44 smaller temples around the main deity of Surya, which called as Burhadita or Vraddhaditya. A famous temple dedicated to the Kesar devi. It has 44 smaller temples around the main deity of Surya, which called as Burhadita or Vraddhaditya.
The temple is well maintained, the caretaker of the temple was kind enough to take photographs on our behalf outside, though taking photographs inside the temple was strictly prohibited. However, few exceptional ones were taken at the initial few minutes of my visit. Inside the temple it is dark and only through lantern lamp, the idol, shivling and shaligram are visible. There are many small temples around and few didn't even have idols. It's said that those temple like structure is where the sages used to sit and meditate.